Storm Realty Cornwall
Helping You Invest In Your Future

Storm Realty Cornwall is one of the city's youngest Real Estate Brokerages.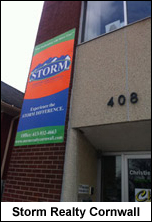 Now please note....being a young company does not mean that the Brokerage is comprised of a group of inexperienced individuals trying to sell real estate.
In fact, the company consists of many seasoned REALTORS® having years of experience working for other brokerages, the result of which are many combined years of real estate sales experience within the office.

Officially opening in August of 2010, the Storm Realty concept is the creation of owner and Broker of Record; Steven Iwachniuk.

Perspective
Steve's vision was to create a company that offered better service to not only its clients, but also to real estate agents and the community alike.

He understood that to be a successful company, it needed to attract highly motivated professionals.

In order to do so, Storm needed to strive to be better than its competitors by offering elements such as more than competitive remuneration, full time office administrative support and a strong team oriented setting; and this was just the beginning.

Viewpoint
He also knew that in order to fairly compete in the marketplace and to come out on top, Storm needed to foster a philosophy unlike any other real estate company when it came to serving client needs.

A small part of that philosophy includes promoting high interaction and client follow up with its REALTORS®.

Too often today, we see this simple fundamental practice just slip into the cracks of the sales process which is unfortunate for the client since they are usually on the losing end.

Fortunately, at Storm this is seen as an important factor to customer service success.
This way of thinking also led to the development and creation of the "Storm Realty Difference".  This is a program designed to help save our clients money when it comes to Real Estate Commission fees and supports this philosophy.

Giving Back
Another key factor to Steve's vision was a strong community presence.
Giving back and being active in the communities which support any business is very important and should never be underestimated.
Having been involved in various community fund raising events in the past, it was a natural integration into his business model.
Already, Storm has been the Title Sponsor of the annual Cornwall Winterfest Carnaval for the last 3 years and has partnered up with Big Brother and Big Sisters of Cornwall and District.

Other considerations are frequently discussed within the team.
So to sum up this page, I would like to say this...


"Together, we are witness to the infancy of a brute force in Real Estate."

"Only time will tell, but if the results of recent months are any indication of where this company will go; brace yourselves...."
"Because this company is poising itself to take the World of Real Estate by STORM!"
As an Ontario real estate professional, I take pride in serving my hometown of Cornwall and it's surrounding communities. These communities include, but are not limited to, those within Stormont, Dundas and Glengarry counties as follows: Alexandria, Apple Hill, Avonmore, Bainsville, Cardinal, Chesterville, Cornwall, Crysler, Dunvegan, Finch, Glen Walter, Green Valley, Hawkesbury, Ingleside, Iroquois, Lancaster, Long Sault, Lunenburg, Martintown, Maxville, Monkland, Moose Creek, Morrisburg, Newington, St. Albert, St. Andrews, Summerstown, Williamstown and Winchester.